We are excited to announce several new and improved functionalities in ImBlaze. At the end of this post you will also see some additional items that we are working on and hope to have out soon.
Student Push Notifications (Mobile)
We are continuing to expand the variety of notifications that students get right on their phone when they have downloaded and logged into the ImBlaze App.
In addition to receiving check in/out reminders, students will now also see notifications when they are approved to pursue a site and when their internship has been started.
Email Notifications
Students now receive email notifications when they have been approved to pursue a site or approved to start an internship. Advisors/Teachers also receive a notification when a student has been approved to pursue a site. (See below for future email integration.)
Edit Student Schedule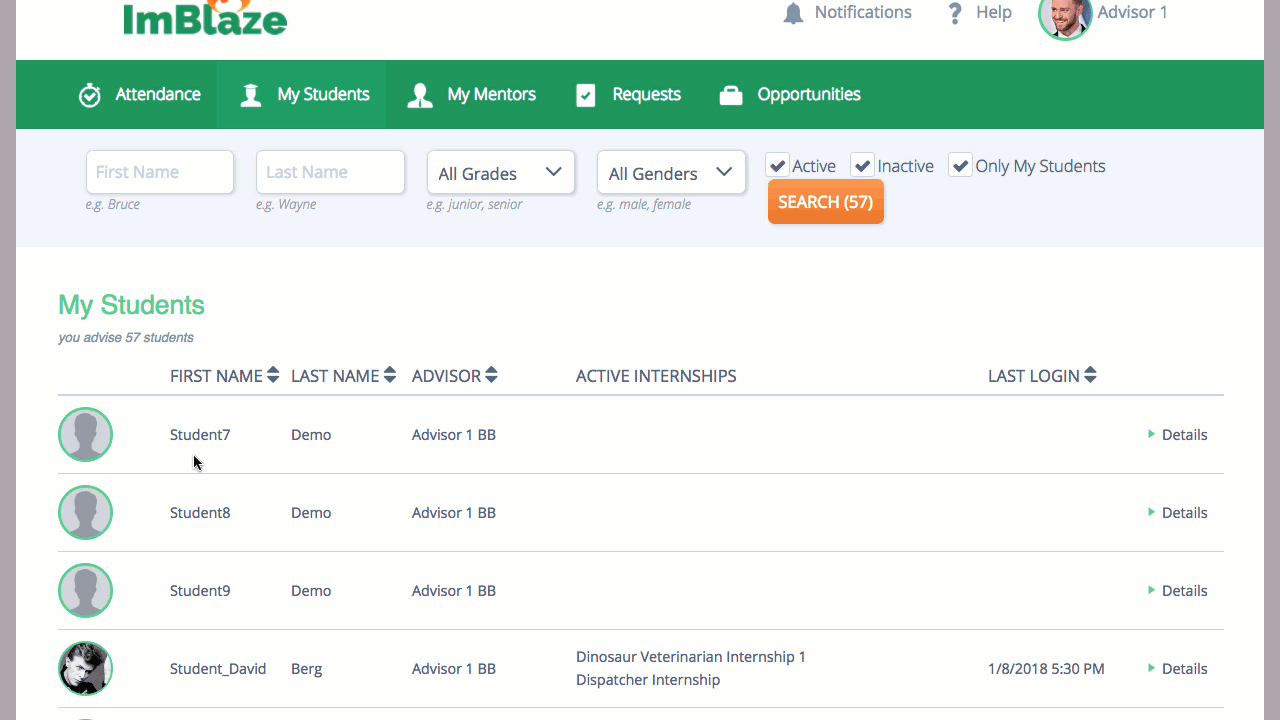 Teachers / Advisors and Internship Coordinators can now edit a student's current schedule.
Go to ->Student ->Internship and click the View Schedule button.
Update Internship Setup Info
Teachers / Advisors and Internship Coordinators can also edit a student's internship start/end date and goals.
Go to ->Student ->Internship and click the View Event History button.
See Students' Wishlist Opportunities
Gain better insight as to what students are interested in by seeing the sites they have added to their wishlist in the Student Requests table.
Change Request to Pursue Status
Internship Coordinators can now change the status of student requests. If you have denied a student request, but then have a change of heart... no problem. If you approved a kid, but then learn that they may not be ready yet, go ahead and change the status to deny to the opportunity available for other kids.
Mentor Comments
We are excited that mentors now have the ability to post comments in their daily attendance verification. This is a great way for you to see daily information on the quality of these internship experiences. Teachers / Advisors and Internship Coordinators can see all attendance in real time. (Note that in order for mentors to verify attendance and add comments they must have an email address added to the opportunity. You may also want to let Mentors know that these attendance verification emails may go to their spam folder.)
LinkedIn Integration
If you encourage your students to include their LinkedIn url in their ImBlaze profile, mentors will be reminded to endorse them for skills during their daily attendance confirmation. This helps students build authentic and robust professional networks. (LinkedIn profiles are great for college apps too!)
Improved Attendance Reports
Attendance reports now contain check in and out times that are adjusted for your timezone and include a summary of mentor comments.
On the horizon....
We are working on some great new improvements:
Advisors will be able to edit student time logs.

Internship Coordinators will be able to see Internship Start Requests and start those internships.

Advisors will get an email when a student requests to start an internship.