Frequently asked questions
Student
Does ImBlaze track my location?
---
ImBlaze does not track your location. When you are using the mobile app, ImBlaze pulls the gps information from your phone at the moment you check in and the moment you check out. At no other time does ImBlaze utilize tracking information. The same goes for the web app. (That pulls your IP location.) Note that any user can disable locations services for any app on their device. ImBlaze will still work, but will not report your location when you check in and check out.
---
Is there a mobile app?
---
For students, there are native iOS and Android apps. Go HERE to download the iOS app. Go HERE to download the Android app.
---
What if I do not see an opportunity that I am interested in?
---
We think that you should pursue internships at places that interest you! If you do not see an internship in your school's database that is interesting to you, you can always suggest an opportunity. In the search results on Android, iOS and Web, there is a "Suggest Opportunity" button. You can search Google, talk to your friends about your interests, talk to your parents, neighbors, etc to try to find a mentor that you would be interested in interning with. Then click the Suggest Opportunity button to add that mentor. Your Internship Coordinator may approve the suggestion.
---
Can my advisor/teacher see where I am and when I am at my internship?
---
ImBlaze only uses the location services on your device the moment you choose to check in or check out.
---
Does the mentor see when I check in and check out?
---
When you check in, the mentor see's your goals for the day. They DO NOT see the bottom fields ("Anything else you want to share?")
---
I don't have a smart phone, can I still use ImBlaze?
---
Yup. You can do everthing on ImBlaze from any internet enabled computer or tablet. Just find the web browser and go to app.imblaze.org.
---
I already have an internship, how does it get into ImBlaze?
---
Best thing to do is talk to your Internship Coordinator. They can add your internship into ImBlaze. Then you can search for it in ImBlaze and request to pursue.
---
---
School
How do internship opportunities get into ImBlaze?
---
ImBlaze Internship Coordinators upload and manage the opportunities in ImBlaze. Students can suggest new opportunities that Internship Coordinators can review and approve or deny.
---
Who has access to ImBlaze?
---
Students can log in with either the website at app.imblaze.org or by searching the iOS or Android app store. Teachers / Advisors can log in at app.imblaze.org Internship Coordinators can log in at app.imblaze.org Mentors get an email daily in their inbox with a link to verify student attendance.
---
How is student information kept private and safe?
---
ImBlaze is built upon Salesforce - an industry standard platform for hosting data trusted by fortune 500 companies, high education and health care sectors. Salesforce utilizes a minimum of 128 bit rest encryption and browsers must be a minimum of TLS 1.1 compliant.
---
What information do you gather about students?
---
ImBlaze does not collect or record any information about student grades. Required data includes: name email teacher internship coordinator internships Optional data includes: photo (student or otherwise) student phone student id student LinkedIn profile grade gender internships (current and past) internship requests internship wishlist attendance time logs
---
Will ImBlaze support my students going on opportunities other than internships (service days, shadow days, etc.)?
---
Schools have adapted ImBlaze to track shadow days, on-site internships, even attendance at community college classes.
---
How long does implementation take?
---
This typically depends a good deal on if your school has an existing dataset of potential internships or not and the level of support you need in redesigning your school to support internships. Below is a general timeline.
---
How do we get from student interest to an actual internship?
---
Building trust with students is important. Also, encouraging students to suggest sites is another way to gain insight on their interests. Note that students have compelling networks of professionals around them, so the key is to help them understand how to tap into that network. Lastly, ImBlaze enables teachers and internship coordinators to see what opportunities students add to their wishlist. Providing further insight into student interest. Note THIS WORKFLOW for running an high quality internship program.
---
How much does it cost?
---
Talk to us. Reach out at help@imblaze.org and we can set up a demo and find out the pricing structure that is best for your school.
---
I know it would be great to get kids connected to mentors in the real world, but how do we even get started building an internship program?
---
Ahh, this is a really important question. Big Picture Learning has been helping schools develop student-centered internship programs for almost 25 year. Reach out and we can connect you with the coaching resources you need. You can also visit Big Picture Learning here. One note: Schools are a compelling hub for a professional community. School's have multitudes of parents who cycle through the school and all of those parents have communities around them to link into the school's internship program. They key is having a database to organize all of those internship "leads". That is where ImBlaze can help!
---
In what ways can you support our school in ensuring that our internship program is successful?
---
Two compelling resources can help: Big Picture Learning can provide coaching services for your school to change practice to support an internship program. Check out Learning Big Picture... our online professional development resource.
---
What is Big Picture Learning?
---
Big Picture Learning was established in 1995 with the sole mission of putting students directly at the center of their own learning. BPL co-founders Dennis Littky and Elliot Washor merged their thirty years of experience as teachers and principals and their distinct national reputations to launch this new innovation in education. With an intention to demonstrate that schooling and education can and should be radically changed, Big Picture Learning was born. In the schools that Big Picture Learning envisioned, students would be at the center their own education. They would spend considerable time in the community under the tutelage of mentors and they would not be evaluated solely on the basis of standardized tests. Instead, students would be assessed on exhibitions and demonstrations of achievement, on motivation, and on the habits of mind, hand, and heart – reflecting the real world evaluations and assessments that all of us face in our everyday lives. Around the same time, the state of Rhode Island was re-examining its educational system. Dennis and Elliot proposed a design – a bold new school dedicated to educating one student at a time -- the Metropolitan Regional Career and Technical Center ("The Met"), the very first Big Picture Learning school. The first Met class graduated in 2000 with a 96% graduation rate. Ninety-eight percent of its graduates were admitted to postsecondary institutions, receiving over $500,000 in scholarships to help fund their college dreams. Clearly, Big Picture worked. With these ground-breaking successes came national attention. In 2001, the Bill and Melinda Gates Foundation announced that the Met was its favorite high school in America, and that the U.S. needed more schools like it, providing Big Picture Learning with a large grant to replicate its design nationwide. In 2003, after the continued success of Big Picture schools, the foundation pledged a second grant to launch of even more schools. By 2010, the President of the United States was lauding the Met and schools like it as engaging and relevant models of innovation worth replicating. Today, there over 65 Big Picture network schools in the United States and many more around the world; with schools in Australia, the Netherlands, Italy and Canada utilizing the Big Picture Learning design. Each individual school embodies the fundamental philosophy of Big Picture Learning: putting students at the center of their own learning. Though Big Picture Learning began as a school design model, our ever-expanding organization and network now devotes its time and energy to the challenging and urgent mission of changing the way we think about education. Instead of a paradigm that judges students and sets limits for achievement, we are rethinking an education system that inspires and awakens the possibilities of an engaged population of learners, from Pre-K through higher education. All of our work, through our practices and our schools, is intended to influence the national debate about public education. We want to convince opinion leaders, parents, and the public that there are better ways to engage our children in learning.
---
What is Learning Big Picture?
---
Learning Big Picture is an online professional development tool to bring just-in-time training and PD to your team, to facilitate your journey to student internships and personalized learning. Big Picture Learning has refined tools and structures for schools to implement student-centered learning for over twenty years. We've streamlined the process of training educators and sharing best practices to bring dynamic online learning experiences to your school's teachers and administrators. Learning Big Picture combines videos, classroom resources, research, and best practices from the field to create powerful learning for teachers. Each course has embedded opportunities for authentic application of these tools and resources, so you can get to work right away on moving your program toward stronger student engagement through real world learning. Courses also have that personal touch, with opportunities to learn from colleagues from across the country, with resource exchanges, virtual meetings, video shares and collaborative cohort models. Users are also eligible for badging and certification options, to represent their learning and their progress. Learning Big Picture also comes with comprehensive analytics for school and district leaders so you can get real-time information on how your team is utilizing professional development resources. If you are building an internship program from the ground up, or if you're looking to improve the rigor, relevance or authenticity of your current internship program, Learning Big Picture will provide comprehensive online professional development support and coaching, every step of the way!
---
What roles do we need at our school to run an internship program?
---
There are two key roles that will help with a successful internship program: Internship Coordinator: This can be a CTE teacher, an assistant principal or a variety of other folks around the school. The role involved curating and cultivating connections with mentors in the community so as to develop a dataset of "potential" internships. Once in ImBlaze, students can then request to pursue those sites. The Internship Coorinator can also assist with internship readiness instruction and managing compliance documentation. Teacher/Advisor: This can be an Advisor or a CTE Teacher. The role involves supporting a student through their interest exploration, and pursuit of internships. Once a student lands an internship, this role also supports the development of internship work as well as verfifies student attendance in ImBlaze.
---
We have multiple schools in our district that are starting an internship program. How does that work?
---
Yes. Currently we do not have a regional or district level functionality so that schools can own relationships with mentors but also make that ownership known to all schools within that community. So groups of schools using ImBlaze develop naming conventions to indicate what school owns what potential internship.
---
How do I reset a student password?
---
This 2:32 video shows you how to reset a student password AND how to temporarily change a student email address to create a predefined password for a student that has a particularly difficult time.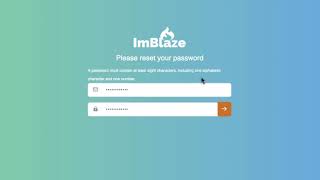 ---
---
Parents
Does ImBlaze track my student?
---
ImBlaze does not track your student's location. When students are using the mobile app, ImBlaze pulls the gps information from their phone at the moment they check in and the moment they check out. At no other time does ImBlaze utilize tracking information. The same goes for the web app. (That pulls the IP location.) Note that any user can disable locations services for any app on their device. ImBlaze will still work, but will not report your location when you check in and check out.
---
Can I log in to see my student's activity?
---
You can talk with your student about accessing their login information. At this time, there is not a parent portal.
---
Who has access to ImBlaze?
---
Your student can log in on any computer, or on the iOS and Android apps.

Teacher or Advisor can log in to ImBlaze on a computer to assist your student in searching for internships and monitor attendance.
The school's Internship Coordinator approves students to pursue internships and maintains the overall site for the school.
Mentors receive an email every day your student leaves their internship to confirm the attendance for the day.
---
What information do you gather about students?
---
ImBlaze utilized the student's name and email address to create a login. ImBlaze enables and logs what internships students are searching for, and where they may go for an internship. ImBlaze tracks the daily and internship goals and accomplishments.
---
I really want my school to start an internship program so my kid can get out in the real world. How do I get started?
---
Give us a call. ImBlaze is a product of Big Picture Learning, which has 24 years of experience helping schools build interest-driven internship programs as a way to support real-world learning and the building of student professional networks.
---
What is ImBlaze?
---
ImBlaze is a platform that enables schools to curate a band of internships or potential internship sites. Students can search these sites based in their interests. Key components of the platform:
Students can Request to Pursue internships that they are interested in. These requests go to the school's internship coordinator to approve or deny.
Students can - with the help of teachers and school staff - try to land an internship after they have been approved to pursue. ImBlaze does not automatically pair a student with a mentor.
Once an internship has been started, students can log attendance at their internship. The attendance functionality in ImBlaze takes a snapshot of the student location when they check in and out of their internship. Note that

ImBlaze does not track student location

, it only takes a snapshot of the student location when the student checks in or out of their internship. (Students can disable location services on their mobile device, but this will prevent the school from determining if the student was at their internship when they check in/out)​ records the date and time of the check in and out emails the mentor (if a mentor email address is provided) at the end of the day to confirm the student's attendance.
---
---